Did you enjoy the conversation last week with Tina Zion?  
In case you missed seeing the video with Dana & Tina you will want to catch this great conversation. Tina shares about our birthright to use our Gifts of Knowing and Intuition. We don't have to go looking for our gifts. They are right here waiting to be used consciously by us! 
WATCH IT NOW!
I'm so excited to announce Tina has decided to join me in Vancouver, British Columbia for one of her hands-on Medical Intuition workshops, Become a Medical Intuitive, Seeing with X-Ray Eyes April 29, 30 and May 1st from 9am-5pm.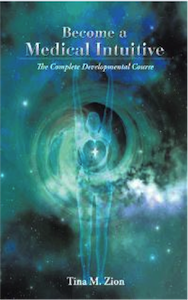 We will learn to develop inner sight for the deeper cause of illness — feel, sense and see the entire person on all levels. Understand the electromagnetic energy of thought and emotion, assess what vibrational colors are telling you, do distance assessments, and much more.  For lay people, medical practitioners, energy healers, practicing psychics and mediums, and anyone who wants to develop their intuitive abilities.
Testimonials from past attendees:
"This class was exceptional in its clarity of presentation, the thoroughness of coverage of subject matter and most of all fun! We were all relaxed and friendly with no anxiety in performing the exercises. Tina is so knowledgeable and friendly, open and sharing of her experiences. I did not want it to end!"
"Thank you for a wonderful session. I learned so much more than I expected. Tina, you are a gifted teacher!"  
 
A Note from Tina
"This workshop is 40-50% experiential. You will not just be hearing from me but also putting the concepts into practice. Each step builds upon the next and the next to build confidence. It is important to me to make sure you KNOW that this workshop is set up to avoid performance anxiety and you will not be called out to stand before others at any time."