Let me show you how to get your gifts of discernment and intuition to over-ride Fear. 
Think about it … if you are constantly in fear with your daily decisions, then you're going to FREEZE your Intuition and you'll be negotiating and dancing with Fear.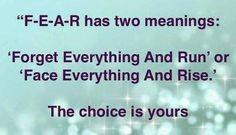 If you create through Fear, you are agreeing to multiply that authority of Fear.
Here's how it works; 
FEAR'S cousin is ANXIETY and she will introduce you to her other cousin STRESS and it's going to be a FAMILY REUNION! They will all be square dancing and squealing with delight!!! OUCH!!!
I want to help you to unplug from the loyalty of FEAR and stay safe from recreating more multiples of this equation. BTW … Fear isn't actually keeping you safe, it's creating more and more versions of itself and then it becomes debilitating! Not only that ~ it robs you of your clarity, discernment and intuition.