I truly believe that when you heal your Inner Child, you will be happier, healthier AND you will have FREEDOM!!!
Once Susan found her 'theme' that was showing up in all of her creations, she saw how her Inner Wounded Child was running the show! Learn about how Susan was an over-giver and how healing her Inner Wounded Child Parts changed her life as a result of using these tools that are in my new book ~ Re- Parent Your Inner Child Using EFT ~ click here to get Susan's story.
MY BOOK IS FREE FOR A LIMITED TIME ~ RE-PARENT YOUR INNER CHILD USING EFT!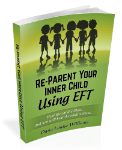 Click on the book to get your copy!

YES, YOU CAN GET MY BOOK FOR FREE FOR A LIMITED TIME! CLICK HERE BEFORE YOU HAVE TO BUY IT ON AMAZON!
In this easy to read comprehensive book, you will learn the philosophy of energy medicine and how to apply your own information to heal your patterns. Get your Inner Child into 'today' instead of being held hostage in all of the 'yesterdays' that keep holding your amazing adult self from having what you want.
Eventually your outer world will lead the way and show you when you are ready to open up that hidden story that leads to your 'theme.'
It's not too late to Re-Parent your Inner Child ~ Go here to book a time to connect with me personally and we will find your 'theme' and go from there to heal it!
Sending you Love and Infinite Blessings ~ Dana