Click here to subscribe to Dana's YouTube channel for her newest videos!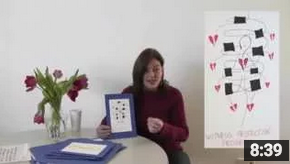 The Witness Protection Plan
The Witness Protection Program using EFT (Emotional Freedom Techniques) will anchor you into the Witness Position, so that you can observe the issues in your life that are out of balance and causing you pain. This could be health issues, money issues, relationship issues, career issues, or whatever is causing you pain.
EFT, or Tapping, which is based on Chinese medicine, uses the endpoints of each meridian to release stuck energy. It allows us to create change with the origin of the issue, which is either based on a trauma or belief from the past. We take responsibility into our own hands, and go within.
---
Colette Baron Reid shares a very intimate conversation on how SPIRIT led her to be in a profession that was not at all on her radar. 
---
Anita Moorjani is a messenger sent to us from Heaven so that we can change our traditional ideas around and know the power of LOVE WITHIN US & AROUND US.
---
Tina Zion shares how INTUITION AND KNOWING are not just for the gifted few. In this personal conversation Tina helps us to EXPECT INTUITION to show up at the moment that we need it. We can train ourselves to EXPECT IT! Do your inner brilliant self a favor and take these jewels of wisdom in…
---
Dr. Linda Howe is the Goddess who pioneered a way for us to connect deeper into the wisdom of the Soul so that we can remember the truth of who we are and how to Love our Lives on a daily basis. Here are just a few of the topics that we discuss in this rich one hour video: How do I love myself in an environment where no-one understands me? How our family of origin reflects our consciousness so that we are inspired to transcend the old paradigm. How negativity & judgement are like the glue that keeps us stuck in old habitual patterns.
---
Kenny Quinn and Kelly Pasholk share their vision of living an earth-friendly life. What does it mean to live a life of integrity; one that honors Spirit and Earth? Why is this so important, now more than ever? We invite you to step up, and join the adventure through the Earth and Sun Sustainable Builders workshop they'll host this summer in Taos, New Mexico. There you'll learn about sustainable building, creating community, while working hands-on to co-create an off-grid, passive solar, earth bag home.